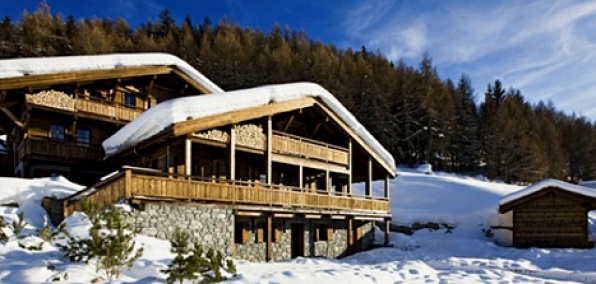 Your journeys into the mountains tend to fall into one of two categories: the Indulgent Ski Weekend or the Monastic Voyage for Personal Truth.

In the interests of efficiency (always a concern when planning a vacation), you might consider tackling both at once.

Welcome to Hidden Dragon, a Zen-inducing take on the Swiss chalet, conveniently planted in the middle of Switzerland's largest collection of ski slopes, booking now for a Dec 13 opening.

In short, it's a full-service spa that's been dropped into the Alps, along with a wine cellar and a full squad of butlers (like you built it yourself). You can start skiing the minute you get out the door—there's a skier's entrance in the back and a cable car just down the hill—but when you get back to the lodge, you may notice a few subtle differences from your usual chalet. For one, instead of a hot shower, you can warm up inside a Turkish steam bath. And instead of a jovial Nordic ski instructor, you'll be kicking back with a live-in masseuse. (We're guessing she's jovial too.)

And in the name of inner peace, the entire structure is laid out using feng shui, with its back to the mountain for psychic support and a river in front to guard your all-important Qi flow. And in case you were worried about keeping your meditations clear—we certainly were—a Shinto ritual was performed during construction to rid the building of any unclean spirits.

The sauna, on the other hand, is still up for grabs.