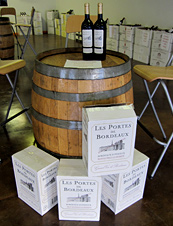 From time to time in life, certain rules of social decorum should be broken.
Like wearing white after Labor Day. Or dating your coworkers. Or drinking wine that costs less than a sandwich.
Which brings us to
Imperial Wines
, your new wallet-friendly vino source on the Upper East Side, now open and specializing in good bottles for $20 or less.
Launched by the former sommelier at Les Halles, Imperial is able to sell you European wine on the cheap by cutting out the middleman and working directly with boutique vintners from Spain, Italy and France (it is, after all, all about the French connections). They also save you money by cutting out the interior-decorating department—stop by the no-frills shop and you'll notice the wine bottles still in the handsome boxes from whence they came, and aged oak barrels serving as tables.
All of which means you can grab a nice Chateau Mouton Bordeaux Superiur for $15 that would normally go for $25, or a Domaine de Mont-Redon Rose for $10 that would typically run you $15.
And because handing you wine for next-to-nothing isn't quite the same as handing it to you for nothing, they'll also be doing free monthly tastings, like the one this Saturday where you can sample a few varieties that might go well with your Thanksgiving dinner.
We hear merlot really brings out the top notes of gravy.