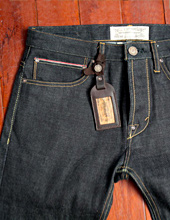 There's no need to be frightened, but we thought you should know there is a dark knight roaming the streets, a masked marvel devoted to a very important public service.
Making you blue jeans.
Arriving in Farinelli's now on a wave of secrecy:
Men Without a Country
, a new line of handmade jeans from an international man of mystery.
In short, the line's creator (rumored to be a creative force at a major mass fashion brand) values his freedom so much that, like Batman, ninjas or Dick Cheney, he prefers to do his work under a veil of secrecy. But that doesn't mean he's not devoted to his craft—we hear he nearly sawed off his hand while making a pair.
What all this means for you: classic blue jeans that look like what James Dean would've worn if rebels had causes, and one of those causes was quality denim craftsmanship.
There are smart details like buttons made from old Japanese coins—which, given the state of the yen, are probably more valuable when used to hold up pants. And on the back, you'll find a patch specially made to very subtly resemble an all-white American flag.
They make a great Flag Day present.