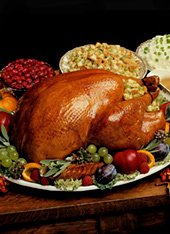 If you're like us, you dodged turkey duty this Thanksgiving—you just have to show up with a date on one arm (check) and an impressively gourmet side dish in the other (uh-oh).
About that—we found a place that'll cook it for you. In your own dishware. Nobody has to know…
Get ready to be very thankful for the
Thanksgiving Sides by Vibrato
, now accepting orders.
To up your kitchen rep without actually, you know, cooking, just call up the Bel Air legend to make your order, drop off a casserole dish by next Tuesday—and on Wednesday, your
Buttered Sweet Potato Casserole
will be ready for you. In your dish. With heating instructions from the chef. (Just be sure to take those off before you arrive.)
If your turkey-day party is more of a
Cranberry Chutney
crowd, that's also an option—along with
Farro
(an Italian carb classic cooked with mirepoix, raisins, pine nuts and spices),
Cauliflower
Gratin
,
Mushroom Medley
and
Haricot Verts
. You'll pay about $12 for each person you're fooling.
Uh, we mean serving.