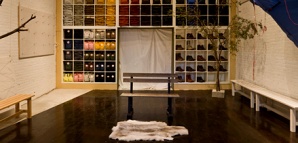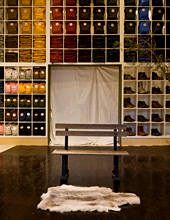 Sometimes, only a Swede will do.
Like when you need a shelving unit and meatballs at the exact same time, or blonde revelers to dance around a maypole (you'd be surprised how often this comes up).
Or, when the winter freeze approaches, and you don't have a coat designed for exploring the North Pole.
For the latter, you'll want to drop by
Fjällräven
: the first American outpost of the classic Swedish outerwear company, and the new go-to spot for all of your Scandinavian needs, open Thursday in Nolita.
Sunk below a well-worn stretch of Mott Street, dip inside and you'll be welcomed by high ceilings, felled trees and a full staff of imported Swedes, all bent on outfitting you in the kind of vintage-looking jackets that Roger Moore might be spotted wearing around Gstaad in 1971.
You'll want a waxed cotton Greenland jacket to thwart an impending wintry mix (using beeswax from its own bee colony). And the sky blue, Arctic Circle-ready, Expedition coat—basically two huge down jackets sewn together—will help you perfect that '70s-Patagonia-catalog look.
And like any good visitor, Fjällräven also brought its attractive Scandinavian friends—sweaters from Sweden's Woolpower (supplier to the Swedish and U.S. armies), Dale of Norway (makers of slope-ready and holiday party approved snowflake-print sweaters) and the century-old ax-makers at Gränsfors Bruks.
Because nothing complements a snowflake sweater like a nice Swedish ax.
Note:
<a href="http://www.fjallraven.com/" target="_blank">Fjällräven</a>, opens this Thursday, 212-226-7846