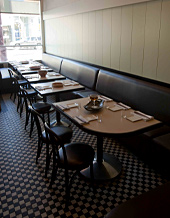 In Japan, there is a tradition.
After work, the businessmen go out to something called an
izakaya
. There, they share food and drink sake until they can't drink any more.
As Japanese traditions go, it's not all that crazy. But that doesn't mean you won't give it a try a little closer to home…
Welcome to
Nombe Restaurant
, the Mission's only Japanese sake house and tapas bar—and its very first izakaya—opening Friday.
In short, it's like a perpetual happy hour in the form of a late-night restaurant—even the name is Japanese for "person who likes to drink." Inside, you'll find a 70-deep sake list (devoted to centuries-old, family-run sake breweries called
kura
) and a kitchen helmed by two izakaya experts from Sozai and O Izakaya Lounge.
Take over the long captain's table next to the bar with 20 of your closest friends for a round of Ichigo, a Japanese microbrew made from rice. Pair it with sake like the clean yet potent Hiraizumi Yamahai (aka "Splashing Spring Water") or the silky "Demon Slayer," before calling out to the waiter for traditional bar snacks (think
Kurobuta Pork Belly
and
Tai Snapper Sashimi With Kabocha Squash
).
But if your busy late-night schedule only allows for a quick stop, drop by the sliding glass window (open 'til 2am on weekends) for
Fried BBQ Pork Rice Balls
or
Takoyaki
(fried octopus balls).
Which should tide you over until morning.