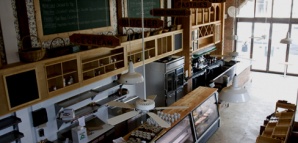 There are lots of important men in Hollywood.

Not least among them—the man who brought you the Bowery burger.

And now, George Abou-Daoud wants to be sure you get your fill of wine and Buttered Popcorn Ice Cream. Finally the day is near—The Mercantile opens Monday on Sunset Boulevard.

A few blocks west of his other empires (the Bowery, Delancey and Mission Cantina), this new market, restaurant and wine bar takes things back to those leisurely days in grandma's kitchen. Assuming, of course, your grandma could cook like former Blue Velvet chef Kris Morningstar—and assuming she was also a bit of a hipster lush.

Under warm sunlight and quaint blue-and-white floral wallpaper, you'll find weird sodas in the fridge, and shelves lined with baked beans in mason jars and maple syrup aged in bourbon barrels. At the counter: pastries, cheese, charcuterie and ice cream. (The new four food groups.)

If you're in the mood to stick around, the wine bar is front and center, and you can take home pretty much any bottle you like. Or you can sneak upstairs to the low-ceilinged rear balcony to enjoy your Octopus en Escabeche or the night's special in peace—Wednesday it's chicken potpie, and Friday is a Cassoulet With Duck Confit.

You wouldn't have cassoulet any other way.