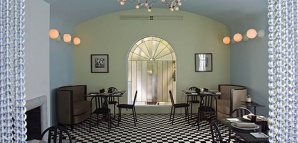 Without great adversity, there can be no great triumph (or so you tell yourself during the adversity part).

Bastide—finally reopening tomorrow after months of being shrouded in mystery—has definitely had its share of the former, and will now attempt the latter. You may recall the glory days of renowned chef Alain Giraud (whose classic French cuisine earned a four-star rave from the LA Times), and the more turbulent era of follow-up chef Ludovic Lefebvre (whose modernized menu got three of those stars stripped away). Before long, the gates of Bastide were slammed shut, and you figured this Melrose Place spot was headed the way of the show: cancellation.

Now, upon entrance through those gates, you'll find the same basic layout you knew and loved. Olive trees rustle on the front patio, and up the porch steps are two small dining areas and another enclosed patio. But you'll quickly notice some changes—goodbye white linens, hello chandelier of bare light bulbs—that'll make your dinner feel less stuffy.

Once seated, you'll peruse a brief prix-fixe menu from new chef Walter Manzke, a Patina vet who swears on the honor of the pastry chef (aka his wife) that the new Bastide will be low on pretense but high on surprise. For example, your menu's four-course option might list vegetables, abalone, beef and fries, and sweets, but that's all the description you get.

Think of it as a preview that doesn't give away the ending.