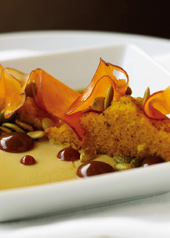 Dessert is usually an afterthought.
Sure, it's fine, but after a dozen oysters and a 28-ounce butter-poached porterhouse, the only sweetness you're looking for is around 80-proof and gets poured into a snifter.
But what if your scotch and your dessert were all of a sudden commingling…
Meet the
Macallan 18 Butterscotch Pot de Crème
, the star of new pastry chef Santanna Salas's revamped dessert menu at Bourbon Steak.
This digestif of a dessert starts its life as a simple caramel-colored custard before really coming into its own with a big kiss of Macallan 18 at the end of the process (because you wouldn't want all that peaty goodness to cook out before it gets to you).
Connoisseur's note: Salas says the custard was tested with both Macallan 12 and Macallan 18, and a panel of blind testers decided on the older malt (age
and
wisdom). 
Before serving, the confection is topped with toasted pumpkin seeds, pumpkin spice cake, candied squash and drops of caramel (there's scotch in that, too).
The result finishes just like your favorite highland malt, with just enough of a smoky bite to remind you that the custard isn't running the show here.
As for what to pair it with, we think you know the answer to that one.