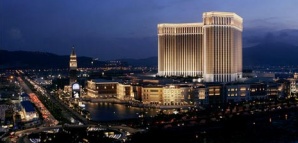 Just like Starbucks, Vegas is setting up franchises left and right these days, from Reno to Dubai. What does it mean? You just got a good reason to go to China.

The Venetian Macao, from the casino masterminds at Las Vegas Sands, opened last week as the long-awaited centerpiece of Macao's Cotai Strip. Think Vegas, only rising from the South China Sea. With 3,400 slot machines, 3,000 suites, more than 350 shops and twice the cash-blowing square footage of its Vegas counterpart, the Venetian Macao is the biggest casino in the world. It's your chance to rake in some renminbi...or whatever currency is lighting you up these days.

Of course, it's not (just) size that matters. Every detail under the world's second-largest roof says Venetian luxury. If you feel de-citrused, soak up some liqueur with the V Spa's limoncello massage. For the romantically inclined, there's three different grand canals, and a fleet of gondolas and Chinese sampans ready to shuttle you down the stream in style.

Then again, maybe you'd prefer the Vegas-sized arena, boasting an NBA-China national basketball tournament next month, and a Sampras-Federer showdown in November.

Mao might not have approved. But we're guessing you will.