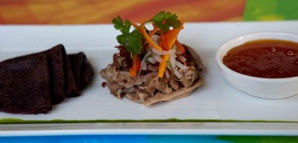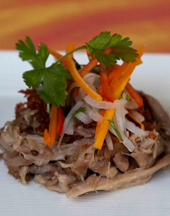 Sometimes life calls for tough choices.
Like whether your unquenchable thirst for all things porcine should have you venture into the land of ingesting furry and potentially cute things.
In the name of indigenous Peruvian tradition, we say go forth boldly and remorselessly. Allow us to introduce: the guinea pig.
Before you have flashbacks to your 5th grade hamster Harry, these creatures are a little wilder and tougher—tracked down for centuries in the mountains of Peru by Andean tribes and eaten on celebratory occasions.
Now available at La Mar Cebicheria,
Cuy Pekingese
is a new dish showcasing the Peruvian delicacy that the restaurant flies in from an organic farm outside of Lima. The pig is marinated for a day in spices, and then immersed in duck fat and braised slowly for hours. The confit-style meat takes on a richness much like rabbit, quail or dark meat chicken.
When it arrives at your table, you'll see that it's been shredded and piled high, looking much like carnitas. Eat it the same way you do Peking duck—open your
Chicha Morada
(purple corn) crepe, mound some of the cuy on top with pickled daikon, carrot and cilantro, roll it up and then dip it in the sweet-and-sour sauce.
Paired with a few glasses of
Chicha tu Mal
(pisco infused with purple corn), it'll be the best South American pet you've ever had.
Or at least, the tastiest.