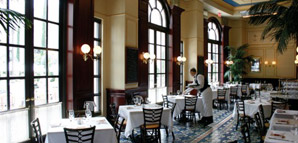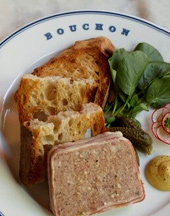 In life, there are but a handful of days you remember forever. Like this one.
Because Thomas Keller, he of the venerated French Laundry and Per Se, is finally bringing
Bouchon
to Beverly Hills on November 18—and today's the day the reservation lines go live.
Bonus: it's also the day we'll tell you about his secret little wine bar.
But first things first—from the courtyard next to the Montage hotel, you'll enter the stately Beverly Hills Gardens building and ascend to the second floor alongside a ravenous flock of besuited Gersh agents, trophy wives, moneyed celebs, beards and eager foodies who've eaten Top Ramen since March to save for the big night.
If you've been to Bouchon in Yountville or Vegas, you know to expect refined bistro classics—
Leg of Lamb
,
Trout Amandine
and a two-tiered
Grand Plateau
seafood tower. To wash it down, the
Vin de Carafe
program brings in exclusive blends from the central coast, and they'll also be serving the pilsner-style
White Apron
beer here and here alone.
Speaking of washing things down—if you want a more covert hideaway, just veer into the courtyard-level
Bar Bouchon
, debuting shortly after the restaurant. It's an intimate 11-stool nook, with additional terrace seating under the sun, for charcuterie,
Escargots Bourguignonnes
and potted foods to go with your cabernet.
Rumors of a secret 12th stool remain unconfirmed.
Note:
<a target="_blank" href="http://www.bouchonbistro.com">Bouchon</a>, 235 N. Cañon Dr, Beverly Hills, phone lines open today at 310-271-9910, opens November 18, Bar Bouchon shortly thereafter