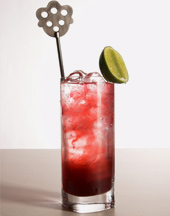 You've shaken. You've stirred. You've muddled, jiggered, spiked and blended at dangerously high speeds.
You've also been known to mix a mean cocktail or two.
So we'd like to introduce you to a potentially game-changing new weapon in your arsenal of mixology: 
Hum
, a liqueur devised by Chicago's top alchemist, available for your cocktailing pleasure starting tomorrow.
You know Adam Seger as the mad genius behind the bar at Nacional 27, where you've long suspected that his nationally celebrated strawberry-rhubarb-basil-balsamic mojito has something to do with your ability to tango your way across the dance floor without missing a beat.
Now he's teamed up with a few other locals to start an artisanal booze company (it's made at North Shore Distillery in Lake Bluff). The first effort is this 70-proof, sweet-yet-peppery rum liqueur made with pot-stilled rum, hibiscus flowers, coriander, ginger and Kaffir lime.
While we would never dissuade you from drinking this straight, you'll find it comes in handy when you're shaking your next batch of margaritas—and, thanks to its luscious deep-red color, we can even see it finding its way into some of your famous holiday champagne cocktails. Seger even recommends adding a healthy splash to your beer.
So here's to your health…