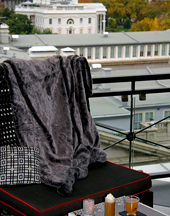 It's getting nasty outside.
Which means you're thinking of bunkering down in underground bars, retreating to fire-lit cabins and generally getting to know some very old, extremely distinguished hooch.
But you're probably not thinking about roof decks.
Which is smart. At least until they start handing out plush boozing blankets…
Welcome to the winter season at the P.O.V. bar on the rooftop of the W Hotel, digging in for the cold with heat lamps, transparent windscreens, a few new hot cocktails and the genius that is the boozers'
Blankets
.
Now this is the kind of out-and-out ingenuity you can fully endorse—a faux fur and suede cocktailer's coverall (historical note: distant cousin to the smoking jacket), built specifically to extend the life of your favorite swank rooftop scene.
Once you make your way upstairs, find your favorite nook, request a blanket from your server and get cozy on one of the high-backed wicker chairs built for two—at which point you'll need a cocktail.
For that, we turn to the new hot toddies by mixologists Sasha Petraske (New York's Milk & Honey and Little Branch) and Justin Guthrie. Go in for the
Hot Peanut Buttered Rum
, made from peanut butter-infused rum, butter, cloves, cinnamon and whipped cream, or the
Mulled Pear Cider
, with bourbon, pear liqueur, cinnamon, clove, star anise and pear cider.
Sort of like après-ski, minus the skiing.