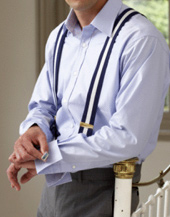 A sharkskin suit, a twisted fedora, some scotch and an inscrutable glare—you are Frank Sinatra. Well, tomorrow you are at least.
But when you play dress up the other 364 days of the year, we suggest adopting the style of a man with even more impeccable taste. That someone is you.
Introducing Deo Veritas, a new Chicago-based website that helps you put your own stamp of timeless style on your custom-made dress shirts. (You can handle the scotch and the glare on your own.)
You've probably seen a website or two like this before—you log in, play around with your choices of fabrics, colors, collar styles, buttons… You get the idea. You can submit measurements down to the bicep—those extra curls have been paying off—or just go with a standard fit.
For now, they're offering you 53 different fabric and pattern combinations, but there are more on the way. They're all from an Italian textile maker named Tessitura Monti. And if you don't know who that is, that's okay: Hugo Boss and Gucci can vouch for them.
Once you're done poring over the details of your design, click send. Within the month, your new shirts will arrive in your mailbox, pressed and folded, ready for your inspection.
Try to act surprised.