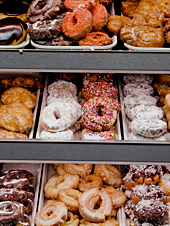 Underground can be good: speakeasies, handsomely bearded revolutionary future dictators, preppy secret societies.
Underground can be bad: running from Johnny Law, entering the Fort McHenry Tunnel, death.
For now we're talking about underground donuts. Donuts with a pedigree. A legacy even. The famous Montgomery Donuts, now available again in the unlikeliest of places:
Slice N Dice
, a sub, pizza and salad operation in the Crystal City Shops.
We know what you're thinking: heading over to Crystal City—the land of the subterranean defense contractor—for a donut doesn't exactly top your Saturday morning to-do list.
But this month marks the first time in six years that you could get an honest-to-goodness Montgomery Donut, a Washington institution going back nearly to World War II. And they're worth the trip. Made in-house at 4am every day, they dwarf your average Krispy Kreme, with a dense, fluffy interior and a bracingly sweet glaze.
Which explains why these little nuggets of fried sweetness used to show up at the White House, the Capitol and the Pentagon every morning. They even made it to every home and away game for Redskins coach George Allen, serving as one of his good-luck charms. (Hear that, Zorn?)
And owner Ben Fischer says he's soon going to start donut delivery to the neighborhood, along with other items—like beer.
A breakfast of champions, indeed.