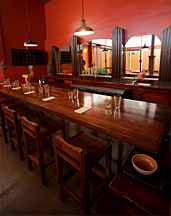 Some things are pretty fantastic when they go small. 
Proof in point: pigs in a blanket, airplane-size liquor shots, Mini-Me.
But sometimes, physics and opportunity call for movement in the other direction. And sometimes the results are nothing less than also fantastic.
Hence the well-deserved buzz around
Green Chile Kitchen
, your stamp-size New Mexican mainstay that's expanding into its own proper corner, opening Saturday on McAllister and Baker.
You may agree that the only thing better than GCK is more square footage of GCK. No longer will you be frozen out from the few rare tables—now slide freely into the old church pews turned banquettes with green-chile burrito in hand (or two, if you're feeling particularly madcap with all the new elbow room).
You can now enjoy $2 Pacificos at the spanking new wooden bar. Or partake of nouveau drink options like a pint of Negra Modelo or sangria spiked with mate, known in South America as the drink of the gods. (And really, who are we to argue with the South American gods?)
Last, but definitely not least, you will reap the benefits of what they now call a real kitchen—read: deep fryer—meaning you can expect an assortment of fried New Mexican specialties like sopaipillas and three-cheese chile rellenos. And if you want to be carnivorous, test out their green-chile tortilla burger.
Burritos and burgers, together at last.