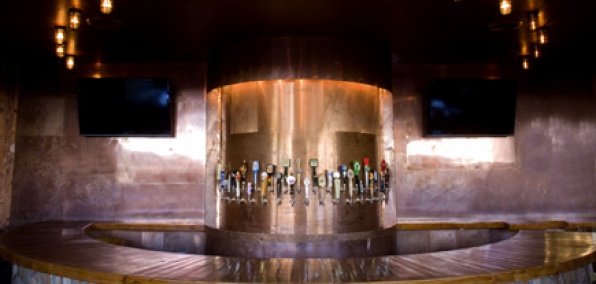 Ricky Gervais and the Golden Globes. Sue Sylvester and tracksuits. Juicy burgers…and cold beer.
Some things were just made to go together. Tending to that last blissful union is
Stout
, your new favorite late-night Cahuenga stop celebrating its grand opening one week from today. (Countdown starts…now.)
Upon entering the strip-mall corner hideaway, the first thing you'll notice is the giant beer wall made of hammered copper—a noble ode to the reason you came, thanks to ever-thoughtful designer Kris Keith
(BoHo
,
Bar Delux
). Grab a seat by the exposed brick (that's anywhere), and start the hard part. The menu offers pairing suggestions for each of the 10 specialty burgers, so that's not the issue. Deciding is.
For the
Six Weeker
(with Camembert, fig chutney, mild jack, arugula, caramelized onions and smoked Gouda), they say a
Belgian Trappist
will hold its own against those cheeses. But if you go for the spicy
Shu Burger
(with pepper jack, light bell spread, grilled avocado and chipotle sauce), they suggest a soothing blonde ale.
Since it's open until 4am, this is the new spot to soak up the effects of your unspeakable nights in
various
nearby
drinking lairs
.
Fortunately, vodka goes with everything.