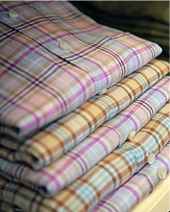 It's been said that a good dress shirt is worth its weight in gold.
Okay, we just made that up. But we stand behind it.
So when we heard that the sartorial pride of Providence, RI (Marc Allen, head of
Marc Allen Fine Clothiers
), was making his way to Boston for a two-week style sojourn, we figured this was an opportunity for you to load up on the second most important office supply of all (a good stapler is still number one).
Here's the deal: starting tomorrow, Allen's in town for two weeks to finalize plans on a store that will open next year, and while he's here, he's making himself available for house calls. Give him a ring or email him, and he'll come by your place of choice (home, office, maybe a nice public park), listen to your needs, size you up and then begin crafting your tailored pieces (he also does suits and sport coats), which will be shipped to you in about a month.
We realize this all sounds a little
Music Man
huckster-ish, but we gotta admit, the clothes seem well-made. They use Loro Piana fabric, which puts it on par with Brioni and Canali, and offer other bells and whistles like mother-of-pearl buttons and collar inserts from Germany.
You don't want to be caught with collar inserts from the Balkans.