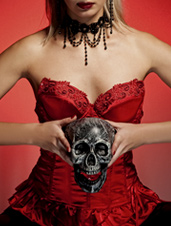 Halloween's almost here and things are about to get freaky.
We're talking bone-chilling journeys to the depths of darkness.
And also, free beer.
This Saturday, for one night only, international graffiti artist Neck Face invites Miami's bravest souls to enter
Devil's Disciple
, a haunted house/art installation at O.H.W.O.W. gallery.
Brace yourself, as this is no teenybopper,
Twilight
-tinged spookfest. The reclusive artist has spent a year concocting this masterpiece of the macabre, transforming the 10,000-square-foot gallery into something out of a Tim Burton movie crossed with an Andy Warhol project.
We can't reveal all that much since Neck Face has been purposely enigmatic about the whole thing (which is
so
Neck Face), but we can tell you this: there will be blood. And dummies adorned with the artist's hair. And mummies. And corpse brides. And a circus freak show with Leatherface-like characters. And skateboarders in ghoulish masks causing mayhem on an indoor skate ramp. (On second thought, we guess we can reveal quite a lot.)
You can also expect a few thousand art-world types descending on the city for the event.
In other words, be afraid, be very afraid.