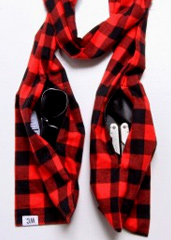 You need to keep your neck warm. And you need to carry your stuff. And until now, those were very separate problems.
The key phrase being "until now."
Introducing the
Wintercheck Julian Scarf
, an awe-inspiring invention that combines pockets with neck warming, available now.
What we have here is nothing short of a scarf revolution (which, frankly, is one phrase we never thought we would be typing). Like all great innovations, it was inspired by a long night out—two women found that they didn't want to check their coats, but they didn't want to have their stuff stolen. And thus scarf history was forever changed…
So now you can stuff your tiniest and most important belongings—your keys, a fifth of hooch or your backup scarf—inside the two zippered pockets. Then tie it around your neck and you're ready to go. And because you're the discriminating sort, you can even pick one up in any of seven plaids.
Why yes, they are made in Brooklyn.