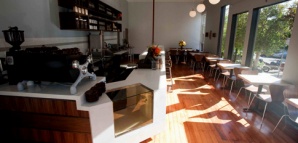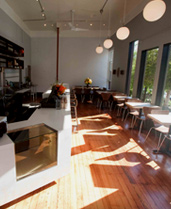 There are days when the efficacy of caffeine versus alcohol in your life is a toss-up.
You no longer have to make these unnecessary, difficult choices with the brilliance of
Matching Half
, the latest Western Addition coffee-bar meets drinking-bar, offering you all sorts of essential liquids (in a potent trifecta of artisan coffee, wine and beer)—and it's now open on the corner of McAllister and Baker.
Step up to the bar-style counter to order your morning drip—whether that's an individually brewed Ethiopian from Santa Cruz-based Verve, or, in the next few months, Sightglass coffee via Blue Bottle and Four Barrel vets (we suddenly feel warm and safe knowing this). Or, once its beer and wine license is final this week, a craft-brewed Left Coast stout, which we've heard kicks off weekdays quite nicely.
With WiFi and typical coffee-bar nosh, you could take over the communal table in back for the day, or claim a bar seat and transition seamlessly into happy hour, which, there, is a 7am till 10pm occurrence.
This is not a place for compromise.