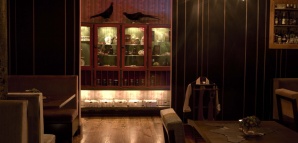 You're a cultural blender. Where others see dinner, then dessert, you see dinnert.

For a restaurant that shares your view, we recommend Sam Mason's much anticipated—like eight months' worth of anticipation—Tailor, officially opening Saturday and welcoming walk-ins starting tomorrow. (Obligatory hype: Here's the city's first look inside!)

The big idea at Tailor: to blur preconceived notions of what a drinks/dinner/dessert experience should entail. Mason, former pastry chef at WD-50, blends savory staples like red snapper with sweets like watermelon and avocado-pistachio, then gets even crazier with the combination of Foie Gras, Peanut Butter, Cocoa and Pear. For all-out dessert, there's the Soft Chocolate, Smoked, Brown Butter Cake or the Carrot-Orange Ravioli, Cedar Ice Cream, Tarragon.

After your sweet fix in the dining area, head downstairs to the skylit underground grotto, which is heavy on the marble, copper and half-ripped-off vintage wallpaper. From here you can stretch out with specialty drinks like the Bazooka (vodka, bubble gum, house sour...on second thought, maybe that one's for her) and the Paprika Punch (rum, red bell pepper, lemon). And coming soon from house mixologist Eben Freeman: infusions like cedar bourbon and the mind-blowing pumpernickel raisin scotch.

Oh, and one Sunday a month, Tailor will hold an invite-only brunch.

Should be a mixed crowd.