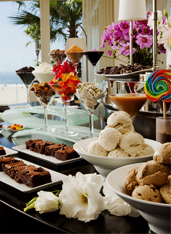 Some things are just a given.
Summer lasts until November. Your Halloween costume will bring tears of exhilaration to all who see it. And when you are offered the chance to drown yourself in gratis bubbly on the beach—you take it.
Yes, there's a kind of amazing new
Sunday Brunch
in town—now available at the Hotel Casa Del Mar.
Under the soaring windows facing out onto the sand, the waves and the pier, you'll settle in at the Veranda (some might call it the lobby lounge) for a three-course affair.
Shellfish and Avocado Salad
to start, then some
Lemon Ricotta Pancakes
or
Country French Toast With Honey Roasted Figs
. And as for that third course, well, it involves as much dessert as you can stomach. (Which is a lot.) Grand total so far: $29.
But here's what just might make this your next great Sunday institution. Before you go, just text the word "Casa" to 21534, and they'll send you a covert message back. Flash that message to the staff upon arrival, and your meal suddenly also includes all the bubbly you can drink. (Which is more than a lot.) Grand total: still $29. 
Your kind of math.
Note:
Sundays 11am-3pm, reservations at 310-581-7714, text "Casa" to 21534 before you go