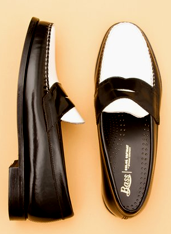 It's okay, you can admit it.
You flipped through your mental Rolodex of possible Halloween costumes, and somewhere between Balloon Boy and
Where the Wild Things Are
, you briefly considered suiting up as the King of Pop. (Too soon, too soon.)
While you had the good sense to ditch the glove and red motorcycle jacket, his famous footwear of choice, the Bass Weejun loafer, may warrant a second look. Or even a place in the closet. So allow us to suggest a tasteful update on a classic: the two-tone
Bass Weejun Loafer
, lovingly redrawn by Chloë Sevigny and available now at Opening Ceremony.
The good news is not much has changed—the shoes are still made by Bass, they're still shaped the same as when your dad wore them, and they still hold one American penny (for a rainy day). But a little color changes everything—instead of muted brown, they're fashioned in contrasting black and white. Or if you want to go for the hipster-college-professor-who-always-secretly-dates-his-students look that you've been considering adopting this winter, there's a two-tone maroon pair as well.
Not to mention a larger collaboration full of moccasins, some lace-ups and a boot version of a classic Bass saddle shoe (perfect for when you're visiting rural retro '50s malt shops).
Now, we understand your reservations—change never comes easy, particularly when that change involves sartorial advice from someone other than your tailor. But while some things are, indeed, sacred (summer Fridays, your rare Journey record collection), others can only benefit from a slight upgrade.
Again: Journey was perfect.