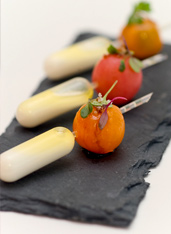 A lot can happen in a year.
New president. New reality stars. New haircut. (Looks great, by the way.)
Oh, and a mind-blowing four-star restaurant can debut, the likes of which it's safe to say our city had never seen. Yes, it's true
—The Bazaar by José Andrés
is about to celebrate its first birthday already (they grow up so fast) with an impressive monthlong blowout.
You'll probably want to make your reservations now—for the entire month of November, they've got a special dinner planned for you. Once you've made your way through
the LED monkeys and the table encased in glass
, and after you've said your hellos to Spears and Scorsese, six waves of food will crash gently upon your table: greatest hits like the
Philly Cheesesteak
from the future, the
Cotton Candy Foie Gras
and the deconstructed Caprese salad (you know, with the liquefied mozzarella you shoot in your mouth through a tube).
To wash it all down, you'll get four glasses of Spanish wine, each one paired with a different item from your meal.
We much prefer this to four pieces of cake.