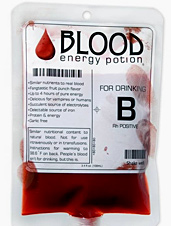 You don't suck.
At least you try not to suck, especially when it comes to Halloween parties. But sometimes, well, your costume requires it.
So to add that extra bit of authenticity to the Nosferatu/Lestat/Blacula getup you might be planning for this year's revelry—or just to quell your desire to sink your teeth into the nearest Elvira look-alike—we present
Blood Energy Potion
, a zeitgeist-mining concoction that blends our culture's fixation on all things vampire with its thirst for…energy drinks.
On the inside, you'll find a pure sugar rush: the ingredient list includes (among other things) fructose, glucose, sucralose and caffeine—or about what you'd find in the blood of a very coffee-addicted mortal. And then that heady concoction is dyed red and formulated to give it the consistency of human blood.
So while it should help you party until dawn, thanks to some clever packaging—a transfusion pouch—it'll also help you lure your next victim, er, conversation partner, at your fancy dress ball. Or you can heat it up in a microwave-safe chalice for an added touch of macabre realism.
You knew you bought that chalice for a reason.