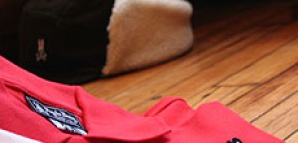 One good showing might get you lucky once or twice, but without consistency, you'll eventually be discarded.
But enough about dating. Twisted fashion company
Psycho Bunny
has a new fall line, and it appears this rabbit is just as refreshingly deranged as
first suspected
.
Designer Robert Godley has taken a useful but yawn-inducing classic—the polo shirt—and made it interesting again through a combination of subtle irreverence and...a style that doesn't stand in the way of subtle irreverence. Created, like all of Psycho's items, to punch some holes in the pervasion of preppiness, the shirts feature a bunny-and-crossbones crest that makes mini gators and polo players seem passé, while a tastefully monogrammed "P.B." between the shoulder blades ensures your back doesn't get shortchanged. Available in six colors, the all-cotton shirts use a classic surfer cut that fits a little better around the arms, helping you appear not only playfully rebellious on the weekends or casual Fridays, but also surprisingly muscular.
And because you can't live on polos alone—at least not during the week—Psycho Bunny debuts a plethora of goods we think you'll like, including: limited edition WWII-era army backpacks, updated with a windsurfer drawstring and Psycho ski club patch; tartan fedoras, duckhunter hats and Sherlock Holmes-esque deerstalkers; cashmere scarves featuring a charming little .357 Magnum; and a huge new line of those mischievous ties.
Happy hunting.