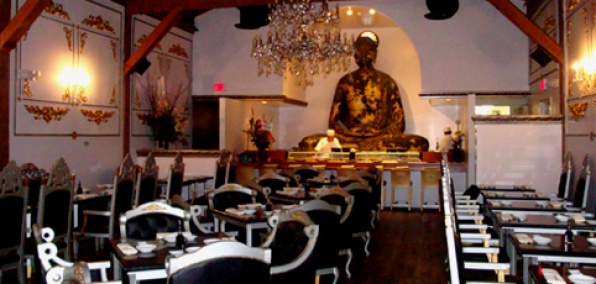 You've always been up for experimenting.

Maybe not "hey, let's build a giant silver helium balloon in the backyard for the kids" experimenting.

But when a French-Japanese restaurant starts slinging Collagen Terrine in an old church—you're the first one up to give it a try. Welcome to Agura, now soft-open on La Cienega's restaurant row.

From the entrance, there's a small standing-room-only bar and a compact waiting area overstuffed with armchairs to the left. That'll be more important once the liquor license comes through. Until then, you'll want to head right into the cathedral, by which we mean the soaring open-beamed dining room, now presided over by a giant golden Buddha (as all good dining rooms are).

The Kyushu region of Japan has had a few izakaya-style aguras, but this is the first in the empire to bring in some French inspiration (and, we're guessing, CW starlets) for an only-in-LA shrine to Curried Colorado Lamb, Dry Gin Lobster and, yes, Collagen Terrine. (There's also a more recognizable sushi menu, if your experimentalism only goes so far.)

And if you prefer all this to go down in secret, step into one of the three private rooms and slide the door behind you—tradition decrees the shoes come off.

Anything else that comes off later is up to you.