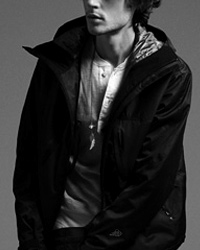 Today is cold enough to be "that day."
"That day" when you suddenly recall your skillfully calibrated regimen for staying warm—a steady flow of rare single malts, plenty of ski-bunny-generated body heat and strictly enforced weekly coed hammam visits.
Here to further stave off the imminent freeze: the
Isaora
Cloud PCM Jacket
, complete with spacesuit technology developed by NASA, available online and at Paragon, starting today.
Yes, NASA. Inside the super-thin, black Cloud coat, you'll find the same stuff—technically known as Phase Change Material, but we call it "magic cotton"—that keeps spacesuits from getting too hot or too frigid in the deep beyond of space. The magic cotton expands and hardens to trap body heat when you're chilly, and liquefies to let cool air in and heat out when you're warm—whether you're braving the elements at Yankee Stadium tonight, or breezing in and out of the Rusty Knot.
We know this space-age talk may sound a wee bit technical. So keep in mind that the snowboarders who created the whole Isaora line—which also includes hoodies, snowboarding pants and a couple flannels—weren't just concerned with how you'll feel on whatever mountain you may be jetting off to in a couple months. They wanted you to look good during your citified no-ski après-ski routine, too.
Or if you winter on the space station.