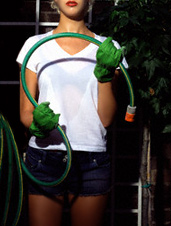 Life is good.
But sometimes you wish it were easier—as easy as snapping your fingers and summoning your own household savant.
Enter San Mateo-based
Redbeacon.com
, an online odd job home base with a thousands-deep database of local accountants, massage therapists and chauffeurs, starting today.
Brought to you by three Google alums—including one who was a member of the paratroopers unit of the Israeli Defense Force (should you need assistance with a pending airborne invasion)—Redbeacon is like the mash up of Craigslist, Yelp and OpenTable that you didn't know you needed. And while you can get the more mainstream plumber/maid/dog walker task done, you'll also discover a network of motorcycle mechanics, personal concierges and tech geeks to get you out of a bind.
Let's say you're looking for someone to cook you dinner every night (which you are). Just type in "personal chef" in the "Who do you need?" category—you could even do a natural word search and type "cook me dinner" if other words fail. Next, specify dates—whether you need them immediately, for a specific dinner (like one with the foodie you met by the squash blossoms at the farmer's market) or something more flexible. Then explain in more detail what you need done and where. If a photo is appropriate, you can attach one of those, too.
Finally, quotes and offers will start to inundate your mailbox.
Which, in this case, is a good thing.