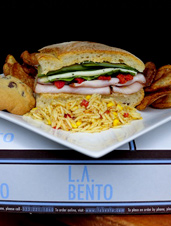 You're always ready for some culinary innovation.
So we've got to tell you about a truly mind-blowing new example—it's sort of like a food truck, but
it
comes to
you
. Something called…delivery. Reasonable prices. Good ingredients.
Ladies and gentlemen, we present
L.A. Bento
, now open.
Now, we should say first that if you're in the neighborhood, you can drop by the kitchen for Jones Coffee and pastries in the morning—the place is a little hole-in-the-wall find, and you'll kind of feel like you are in a bento box yourself.
But if you're not rolling through Glassell Park today, just keep an eye on Twitter. The day's delivery zones are
posted
every morning, and if he's headed your way, order by 10:30am to get yourself some food. Ten bucks. Easy.
All sandwiches—like the
Muffletta
, with ham, salami and provolone on Breadbar bread—come with a side (
County Fair Orzo Salad
, maybe, or
Santa Fe Quinoa Salad
), house-made chips and a cookie. And it's all made to order, all from a guy who's been in the kitchen at Craft, and all in a modified bento box.
Everything's better in a modified bento box.