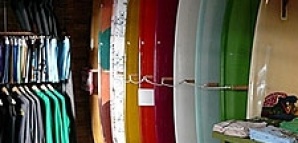 Corky Carroll, Laird Hamilton, Swayze in
Point Break
. They all had it. That elusive Zen of surfing, passed from master to student throughout the ages.
Of course, back in the day, you had to climb a mountain to find a surf guru. These days, you only have to trek out to Williamsburg. (Enlightenment still has its price.)
A San Francisco-based surf shop opening its doors on the East Coast—just in time to catch the northward-heading remnants of Hurricane Dean—
Mollusk
is the sort of clubhouse you usually only find in beach towns, complete with crusty surf types to tell you war stories ("the wave must have been the size of Queens...") and recommend the perfect hand-made board for your next trip to Montauk. They'll also hook you up with some retro-trunks, a wet suit for the colder months and photography books and surf films so you can locate that inner balance. (We hear the trick is pointing your toes.)
And if you feel like taking a night off from
the circuit
, you can chase down that surfer vibe in person. Next Thursday night (Aug 30) at 8, they'll be hosting their monthly outdoor party, with barbecue, crazed revelry and their favorite '70s skater flicks projected onto the oil drums across the street from the store.
It sure beats a night with
John from Cincinnati
.