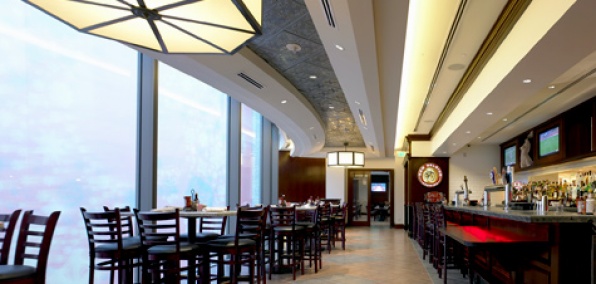 The quest for the perfect burger is never ending.

You would travel far and wide for such a specimen.

Maybe even to Union Square…

Allow us to present Burger Bar, the much-anticipated build-your-own burger joint from Fleur de Lys chef Hubert Keller nestled on the sixth floor of Macy's in Union Square, opening Friday.

Don't let the department store entrance off Geary (nor the fact that the space once housed Macy's bridal registry) deter you. Just ride the elevator to the sixth floor, make a beeline into the restaurant and grab a booth with a tableside flat-screen and bird's-eye Union Square views.

The brainchild of Michelin-starred Keller, this outpost stays true to its Vegas and St. Louis predecessors and is similarly hands-off. It'll be up to you to mix and match the plethora of gourmet fixings—upward of 50, including grilled lobster, pan-seared foie and black truffles—that'll complement your choice of patty (American Kobe or Wild Buffalo, perhaps). And once you master that, there's the make-your-own milk shake bar with toppings from Twinkies to Oreos as well as boozier add-ons like a shot of rum.

If you don't feel like making your own, there are preset items, too—all easily washed down with the house Burger Bar Blonde from Speakeasy that's one of 24 beers on tap. The drinks don't stop there—add an extensive 80-bottle beer list, expansive wine cellar storing the contents of the 100-plus wine list and 20 specialty cocktails.

Needless to say, you've got options.