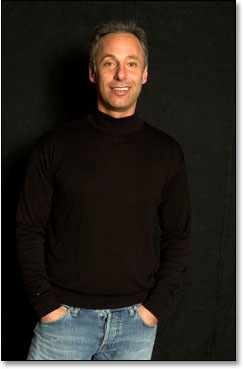 We at UrbanDaddy are always looking for new ways to keep things fresh for you. This week we debut our latest feature: the UD Profile. Here we'll get the key players in the New York scene to do more than just plug their latest creation—we'll get them to pass some of their game on to you.

We could think of no one more suited to kickstart this column than the man personally responsible for many of our more memorable late nights: David Rabin. Here, the Lotus and Double Seven owner talks to UD about the fate of the meatpacking district, where to go if you want to "close the deal," and how stylish gay men can come in handy...
UD: If someone was new to New York nightlife, which restaurant and (non-Rabin) club would you recommend he hit, and why?

DR: Right now, I'd say go to
La Esquina
for dinner. It's a true New York experience created by Serge Becker, who has been doing great nightspots since the club Area. As for a club, I'd say
Cielo
because they stick to their guns. They're an intimate venue predicated on a commitment to music, and they stay the course.
UD: Which cocktail should a man never consume in public?

DR: No such thing. Either you have the confidence to drink what you like or you don't.
UD: Where would you take a girl to "close the deal"?

DR:
Milk and Honey
or
Temple Bar
.
UD: Models or actresses?

DR: Civilians.
UD: What's the most embarrassing thing you've ever seen happen in a club?

DR: I've seen the expression on a wife's face when a waiter said to her, "Nice to see you again." The guy's wife had never been there before. Guys have a bad habit of taking their wives to the same place they bring their other women. I don't get it.
UD: What's the hardest someone's tried to get into one of your clubs?

DR: Well, the doormen probably get all the best offers. The dumbest thing that happened with me was this guy who looked me in the face and told me he was David Rabin's roommate, as in current roommate, not realizing he was actually talking to me. I'd never seen the guy in my life, but I played along for a minute until I just had to bust him.
UD: What's the best tactic for getting past a large doorman if you're not on the list?

DR: Hang back a little bit, be very polite and understated and wear some cool shoes or sneakers. Or show up with either the most stylish gay man or the hottest, tallest, most sophisticated non-trashy girl you can convince to roll with you.
UD: Where do you see the meatpacking district in two years?

DR: Even better. Five or six more great restaurants like Batali's and Colicchio's. There's also the DIA Center, the Highline, The Standard, the new Diane Von Furstenberg store.
UD: Any plans to branch out beyond clubs?

DR: I'm trying out for the Jets QB position this week. I'm also writing a movie about running a nightclub for Russian "bankers" in the early '90s.
UD: What do you feel is the best bathroom to do illicit things in?

DR: You tell me. I'm always up for a good discovery.