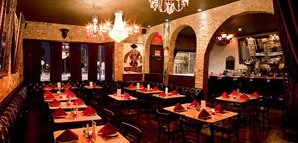 You're all for Spanish tapas, but it's hard to get excited about chefs from the 'burbs who don't know their albondigas from their almejas.

Thankfully, authenticity abounds at Tinto, a new Spanish restaurant and wine bar opening Monday (and taking reservations today) in West Hollywood. The owners are a father-and-son duo from Barcelona, and the chef is from Valencia, Spain, not Valencia, CA. (Oh yeah, and his mentor is Ferran Adriá, widely regarded as one of los mejores chefs in the world.)

Inside, you'll see a classy but rustic hodgepodge of concrete, leather and brick that conjures up España (menu items are scrawled on a huge framed mirror mounted above the bar, so orders can be shouted from anywhere) with a side of Hollywood (the man who helped bring you Tokio, Nacional and Holly's is a partner and hopes to bring the same trendy crowd to Tinto).

Grab one of 60 seats in the dining room to the right, or just veer left to the bar and start yelling out tapas favorites: "Patatas Bravas, Guiso de Calamar, Gambas al Ajillo" (we assure you good things will follow).

Yelling for food...finally something Spain and Hollywood have in common.