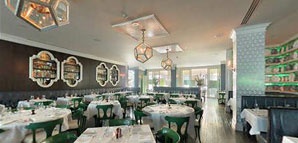 Even in a city with a virtually limitless array of dining options, some dishes are way too good to miss—they demand immediate consumption. Our feature Served Up gives you the lowdown on a standout dish in the city. Dig in.

Certain things were just meant to go together. Gin and tonic. Coastlines and convertibles. Swimsuit models and swimsuits. To that list we add the following unholy alliance: Guinness, whiskey, Baileys and...cake.

That's what you'll find when you sink your teeth into some moist Guinness Cake at Whist in the Viceroy Santa Monica. Pastry Chef Brooke Mosley starts the beer-confection union by rolling her chocolate devil's food cake in a Guinness simple syrup, then adding a whiskey-based caramel sauce. That's topped with a scoop of Baileys-infused ice cream and some "shards" of sugar glass. The decadent outcome tastes sort of like a Dubliner's birthday party...in your mouth.

You can pair the sweet treat with coffee, whiskey, dark beer or champagne, which should just about cover your date's drink choices for the night. And while the Guinness Cake is served during restaurant hours throughout Whist and the Viceroy's Cameo Bar, we think it's best if you sample it from a seat at Table No. 193: Outside and nestled between two private cabanas, it's a favorite of the city's elite.

In other words, you'll fit right in.