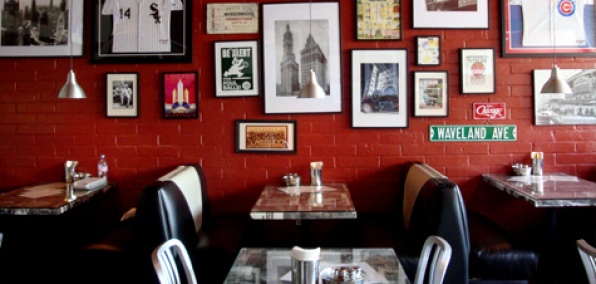 In this corner…NYC-style thin-crust pizza.

And in this corner…Chicago deep-dish.

And you'll have until 4am to sort out a winner. Introducing n.y. & c. pizza, an NYC-versus-Chicago spot that's literally divided down the middle—the official grand opening is tomorrow.

It's a small, no-frills kind of spot from the South guys, with red walls and laminated menus waiting on the table. But look closer—to the left, the tables are covered with old copies of the New York Times, and the walls are covered with Broadway playbills, Yankee jerseys and so on. To the right, old-school Chicago pics on the tables, Sox and Cubs jerseys above. Basically, it's everything you'd want in a Chicago-NY rivalry except Oprah versus Letterman.

Once seated, you'll consult an equally divided menu. From the NYC portion: a slice is three bucks, and specialty pies are named after obvious landmarks—The Empire State's piled with sausage, pepperoni, meatballs, salami and extra cheese. (Hey, plenty of protein.)

And from the Chicago portion—a cheesy deep-dish pie will set you back $20, or go for The Windy City, which includes sausage, pepperoni, salami, sliced beef and mushrooms.

If you're a make-crust-not-war kind of man, head straight down the middle for that great equalizer—a bar at the back, bridging the dual-city gap with beer and wine.

You: the Jimmy Carter of pizza.