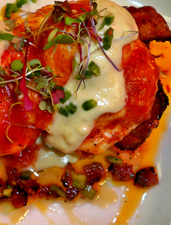 Saturday mornings are best spent licking Friday night's wounds with a little hair of the dog, and the requisite eggs Benedict (also known as "hangover helper").
So it's with great pride and much salivation that we bring word of a new creation that combines both in one dish, rendering all other versions of eggs useless by comparison.
Introducing
Bloody Mary Eggs Benedict With Bourbon Bacon
, available starting this Saturday morning at Poe's Kitchen at the Rattlesnake, designed with your growling stomach (and pounding head) in mind.
Chef Brian Poe, realizing there's no reason booze and brunch should be served separately, poaches eggs in vodka and his own Bloody Mary mix, and sets them atop a layer of tasso ham that's been smoked silly for 12 hours after being cured with bourbon twice daily for five straight days. And because this wouldn't be nearly enough pig product, pork belly—swimming in double the amount of bourbon as the ham—is fried cube-style, while your eggs, ham and bacon are loaded atop house-made cornbread and slathered with jalapeño hollandaise, queso fresco and butter.
And yes, the result is just as dangerously delicious as it sounds. Think of it as your new hangover remedy brought to you by your friends cheese, bread, booze, butter and bacon.
The five essential food groups.