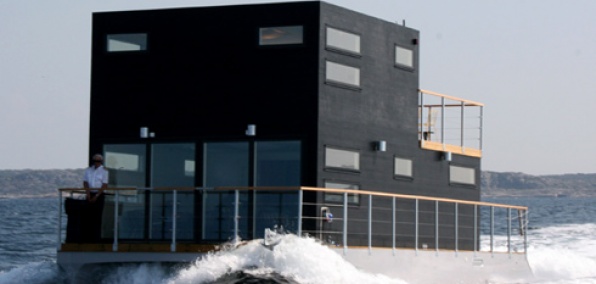 The Finnish ritual of the sauna has been steaming Scandinavians for centuries now, so we don't want to mess with perfection. But after a great deal of soul searching—and a little hydraulic research—we've devised two simple improvements: 1) Put it on the water; and 2) give it a little horsepower.

Great minds, apparently, think alike.

Allow us to present the Salt & Sill, a floating hotel in western Sweden that's currently in possession of the world's fastest (and probably only) nautical sauna, open now.

It's your chance at a slice of schvitzing paradise, with all the steamy seaborne insanity the open water affords. Just reserve the keys with the concierge—we recommend a brisk evening just shy of frosty—and you'll have two stories of mobile sauna at your disposal, complete with downstairs hotbox, a dive-ready balcony and an upstairs suite to retire to after your plunge in the water. And because it recently won the title of "Fastest Sauna in the World"—thanks to a blistering 18mph run in the Match Cup Sweden competition—you shouldn't be afraid to open her up. Once you're done joyriding, steer it to a suitably secluded inlet and fire up the electric stove.

Of course, if you happen to need a maid, a shampoo bottle or a gourmet meal, you can always head back to the dock and avail yourself of the hotel staff—or if you're feeling a bit more rebellious, turn it around and make a break for Denmark.

Disguised as a steam room.