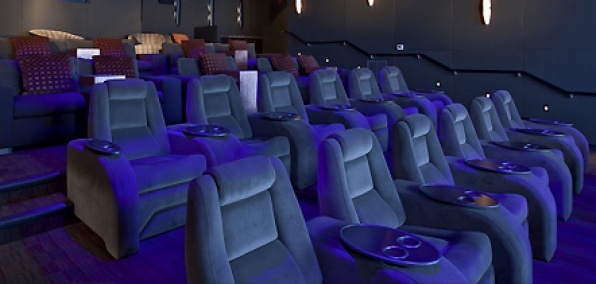 You've always been a big believer in the go-big or go-home philosophy when it comes to watching football.
Even if that means going a little Hollywood.
And it's good to know that someone supports you: 
Screen at the Wit Hotel
, which you can consider your luxury skybox when you—or the Bears—happen to be away from Soldier Field.
We realize that you may have heard something about this already, but since you may have been too busy focusing on the revelry going on at Roof or entertaining clients (or "clients") at
Cibo Matto
to really pay attention to the details, we'll fill you in.
This is a $1 million state-of-the-art private projection facility, similar to the ones that Sony execs use to appreciate their genius for green-lighting
Cloudy With a Chance of Meatballs
. It offers a 10.5 by 24.5-foot wall-to-wall screen with digital projections and enough space (and plush recliners) for 40 of your buddies on game day—or your next Victoria's Secret Fashion Show viewing party. (We know you like to see the lace detailing.)
Rates start at $650 for a two-hour rental (but for you, they'll keep the introductory rate of $500 until Friday). But if you'd like to go all out, there's a football package that gives you the room for four hours, and includes all the beer, prime beef sliders, duck tacos and mini cupcakes you and your friends handle.
That sounds like a mini-cupcake-eating contest to us.