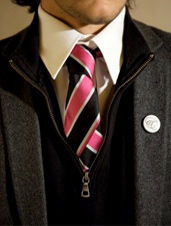 Of all the British stuff that's washed up on America's shores over the years, some of it has worked out (e.g., the Rolling Stones). Some of it, not so much (using the letter "u" in
color
).
And then we saw this. And, well, we're prepared to make a bold statement: it's the Rolling Stones of ties.
Meet
Motto and Crest
, a new line of handsomely twisted, British-made neckwear, available now.
Imagine what Harry Potter might wear, if Harry Potter quit school to start a punk band. (We're told he doesn't actually do this in the books.) It's as if your favorite classic striped ties got mixed and matched by some sort of sartorial hurricane, but you'd still feel good (a little rebellious, even) wearing them to work. And now, because fall wedding season is just around the corner—and holiday party season after that—you have your choice from a vast array of black ties, available tomorrow. They're made from an unholy union of silk, wool and—that badass-est of fabrics—leather, and the line's helpfully dubbed Black Tie. ("Back in Black" was already taken.)
And because what's a big game-hunting excursion without a little formalwear, you'll soon be able to pick up tweed-and-leather options from the New Forest line—inspired, the designer says, by a "hunting weekend gone awry."
Presumably not in the Dick Cheney sense.