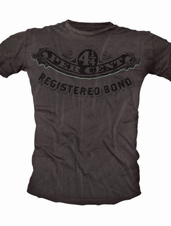 The T-shirt has given our country some of its finest inventions, from the smiley face to the admission that you're with stupid.
But never in its proud history has it been made of cold, hard U.S. cash money dollar bills. Until now.
We bring you possibly the most important sartorial breakthrough of our generation: money T-shirts by
Money Laundry
, available now.
If you're willing to drop down a few Hamiltons, you can be the handsome and shameless wearer of a shirt that's made of recycled 100 percent U.S. currency—and you won't be surprised to learn that this is the first apparel company to put its money where its sewing machine is.
The designs are pretty understated (after all, there's nothing worse than a money shirt that screams conspicuous wealth), with a charcoal-gray tinge to the fabric and meaningless-but-nonetheless-important-sounding phrases like "4 1/4 Per Cent Registered Bond."
It's the perfect shirt for a trip to the bank to take out a quick 50 thou—and just so the teller understands, there's an average of $22 of money threaded into each shirt, with some shirts containing $1 bills and others containing plenty of Benjamins.
Although, be warned: we hear the more expensive shirts come with more problems.