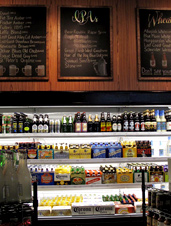 There's only one thing you need from a den of wine.
Actually…it's kind of a lot of things. Some beer. Ostrich jerky. A built-in cigar humidor.
Welcome to
The Oaks Gourmet
, finally opening Thursday in Franklin Village. Don't worry, they didn't forget the wine.
Now here to help you prep for a memorable night at that sterling new hotspot she keeps hearing about—your place—the Oaks is a new kind of corner market/dining room that's got more than 325 wines in stock. (The walls are covered with it.) But the owner of La Cienega favorites like Oak Fire Pizza and Spanish Kitchen knows you might also need some Moretti, Hoegaarden or more than three dozen other beers. Tequila. Plenty of that.
And they've also got dinner covered—think
Black Truffle Popcorn
, Spanish cheese and a serious half-pound burger with bacon, Taleggio and a smoked jalapeno-pineapple compote. If it all makes you so hungry you can't wait till you're home, you can dig into your order right there at the communal table in the middle of the place. Not a bad idea to fuel up…
It's gonna be a long night.