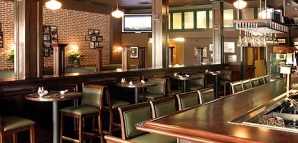 Maybe the only person who knows LA better than you do is the mayor.

Or in this case, the ex-mayor, Richard Riordan, who has just launched a steakhouse next to his downtown LA staple, the Original Pantry Cafe. This one, called Riordan's Tavern, is further proof the guy enjoys grilled meat nearly as much as you do.

Inspired by the restaurants of his Flushing, New York, youth, Riordan's is your venture into a classic Northeast steak joint, all mahogany bar, pressed tin ceilings, exposed brick walls and green leather banquettes. Adding to the warmth, the walls are decorated with a mix of personal photos from the two-term mayor's East Coast roots, and gems collected from his decades on the West Coast (check out Shaq's size 23 sneaker on your way to the lavatory).

As you'd expect, the menu is small and carnivore-leaning. We recommend the dry-aged, 22-oz. bone-in Porterhouse. There's also a daily Carvery special, in which the cooks slow-roast a meat and serve it on artisan bread. Recent choices have included lamb, turkey, ham and roast beef (aka, your four basic food groups). The wines were selected to complement the meats, and the bar serves up all the politico favorites. (Time to bring back the three-martini lunch, Ted Kennedy-style.)

And to think all this without a campaign contribution.