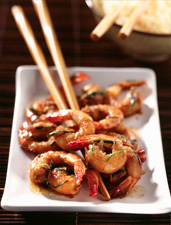 It's only natural: when something's good, you want more of it.
Which is why we spotted you Wednesday finishing off Shaking Beef at Slanted Door, and again yesterday ducking in for a bite at the Westfield—and why you'll soon be frequenting the latest outpost of
Out the Door
, opening next week on Bush.
You've been hearing whispers about this Pac Heights joint for years. It looks a lot like its sit-down siblings, but half as big—making it an intimate, neighborhood spot (even if it's not
exactly
your neighborhood).
After dabbling in Chinese food over at
Heaven's Dog
, chef/owner Charles Phan is returning to his Vietnamese-food roots. This time, though, he's taking it one step further: here, he'll also serve you breakfast.
Start your day at the woodblock communal table under the glow of the chandelier crafted out of a reclaimed buoy. (We know it's early, but those really are barnacles.) Breakfast can go either way: East or West. Go east with the
Coconut Sticky Rice
or
Chicken Porridge
—or, when you're craving something more traditional, order up some scrambled eggs and toast.
And when you're making a late-night stop, sit at the marble bar with a Hitachino as you wait for your
Grilled Niman Ranch Pork Chop
. If you're still hungry, the
Caramelized Prawns
are tasty, too.
But you knew that already.