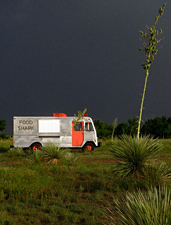 There's been an onslaught of deliciousness roaming our city streets lately, from
tasty Vietnamese sandwiches
to architectural ice cream, Philly cheesesteaks and carne asada, all at your fingertips via Twitter.
That said, if you haven't gotten onboard with the Twitter food truck madness, we get it. It's not like you have time to track every single truck out there.
Fortunately, we've found someone who's willing to do it for you. And they're extremely organized. Say hello to
Find LA Food Trucks
, the new meta home for all your food truck obsessions.
The site is genius in its simplicity: one Web page made up of rows and rows of food trucks' Twitter feeds, indicating vitals like address, cross streets and ETAs. And when you look it up on your phone, all the information coalesces into one vertical row of Twitter feeds for easy reading.
So the next time you're standing at, say, Sunset and Gower on a Friday night at 11pm, feeling the urge for something tangy, sweet and barbecued, one quick scroll will tell you where you can find Calbi's, Bool BBQ and Kogi so you can expertly plan your next move.
Or your next three moves.