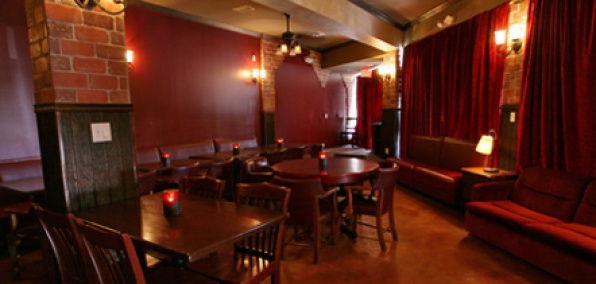 Let's flash forward a few hours. It's 3:30 in the morning, your epic night for the books is winding down, and you've got one simple need: a burger.

And, okay, some sushi. And maybe a few onion rings fried in beer.

Welcome to Transit Restaurant, your new home for late-night comfort food in downtown, now open at Transit Lounge until 5am.

With exposed brick, vintage chandeliers and red velvet couches, it's the kind of worn-in spot that feels like it's been around forever—except it's totally brand-new and ready to help ease your transitions from party mode to sleeping-in-your-clothes mode. This is a place you can turn to whether you've been at Transit all night downing beers and playing board games (your Jenga prowess is legendary), or for a late-night bite on your way home from the Vagabond or PS14.

Assuming you've had a few drinks over the course of the evening's insanity, you're going to love the menu—there's everything for you from a BLT Roll (tempura-fried, packed with bacon, lettuce and avocado) to mouthwatering burgers cooked over an open flame in the open kitchen to Black and Tan Onion Rings: greasy, golden rings battered with Guinness and Harp.

We recommend trying them with a Guinness and Harp.