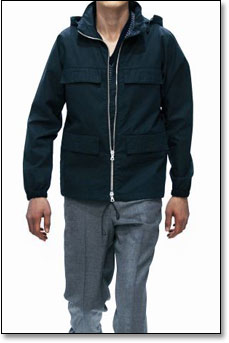 Some English traditions (monarchy, crumpets) are best left untouched. Others can benefit from a little reinterpretation.
And no one understands this better than
Margaret Howell
, a British designer famous for turning traditional English country styles into clothes you might actually wear. Her
MHL Collection
, hugely popular in the UK but never before available in the States, crosses the pond next month, which means you'll finally have a chance to channel your inner fox-hunting aristocrat.
Howell began designing in 1970s London, during the brief and unfortunate moment in history that leisure suits and shiny spandex overlapped. People sought refuge from the synthetic storm in her simple, slightly utilitarian and—most importantly—non-suffocating clothes. Using storied fabrics like Irish linen and Harris Tweed, Howell constructs modern garments you'll love, like the
Walking Jacket
(made from British waxed cotton so it gets better with age) and the
Tough Blazer
(in 'worn corduroy' or 'tough moleskin,' both with elbow patches). There's also a waterproof parka inspired by an original French army design (fortunately, this parka won't fold at the first sign of action).
So when Oliver Spencer bumped into Howell at her Tokyo store, the opportunity to remedy Manhattan's fashionable tweed shortage was too good to pass up. His New York boutique, backed by Odin owners Eddy Chai and Paul Birardi (as if you needed more convincing)—will, monarchistically, be the only store in the country carrying the line.
Now you can finally let go of the leisure suit.