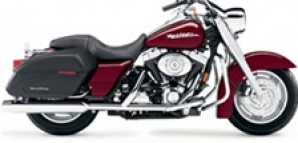 Winter's faded and you've been toying with the idea of riding a hog (not that kind). You might even have your Harley Road King custom picked out and dreams of biker chicks and scorched highway filling your head. Problem is, you don't know the throttle from the choke, and the last bike you rode said Schwinn on the side.

Gaspar Tramas, founder of Tramas Motorcycle and Auto School, is your man. A no-nonsense, old-school, walking motorcycle encyclopedia, Gaspar has been turning amateurs and clueless movie stars (like Liam Neeson, Matthew Broderick and Sopranos cast members) into tough bike-riding guys for 40 years. While his 2.5 day motorcycle boot camp will get you state-certified and street-legal, his one-on-one lessons ($70 for 40 minutes) are a must for novices, since most of them (like us) tend to underestimate the difficulty of riding a bike.

From startup, dials, and gauges, to gear shifting and brake controls, Gaspar makes sure that you're confident, knowledgeable, balanced, and most importantly, not chafing in your chaps before you step on a bike.

After that, it's two wheels, the open road and wind in your hair. As for the biker chicks, maybe you should try learning to ride one thing at a time.